News Articles
COVID-19 Ride the Rogue Update
__________________________________________________________________________
PRESS RELEASE, February 12, 2019
Rogue River Greenway Foundation announces the 2019 Ride the Rogue will be September 21, 2019
New Event Coordinator appointed and more details highlighting our 11th annual event
Rogue River, Oregon February 2019– The Rogue River Greenway Foundation, a guiding force behind the building of the Greenway recreational corridor project has announced that their 2019 Ride the Rogue fundraiser will be held on Saturday, September 21, 2019.
Four different rides will be available for participants to choose from, a century (100 mile), 62 mile, 40 mile, and 20 mile routes will all followed by a great post-ride party with food, craft beer and music at Palmerton Park in Rogue River.
Pre-registration for the ride is available at Eventbrite (https://ridetherogue2019.eventbrite.com). Monies raised from the ride help with the completion of the Rogue River Recreational Corridor and Greenway, a multi-use project that will connect Grants Pass to Ashland, Oregon. The completed path will showcase our beautiful lands along the Rogue River for all of us to enjoy.
New Greenway section soon to be under construction
The 2.5 mile section connecting the Gold Hill segment (just north of Del Rio Vineyard) with the Rogue River segment of the trail (south end of the Valley of the Rogue State Park) will be built this year starting in late spring with completion by late fall.
Future expansion of the Greenway
Josephine County and the City of Grants Pass will be looking at future plans for the Greenway while working on their Transportation System Planning (TSP) documents. The eventual completion of the Rogue River Greenway will link to the already completed Bear Creek Greenway in Jackson County.
New Event Coordinator
Mary Mumma, a recent transplant from Fort Collins, Colorado has been named this year's event coordinator. Mary has previously worked for non-profits Northern Colorado Metropolitan Planning Organization and The Poudre Landmarks Foundation with promoting community events and mobility/transportation planning. More details about the 2019 Ride the Rogue will be forthcoming as planning moves along.
Contact Mary at: 970-231-8809, email: mummameadows@outlook.com.
---
PRESS RELEASE, March 13, 2018
Many of you have asked "What is happening with the Greenway?" Boy do we have news!
With your help, we have received nearly $2.5 million in funding to build the trail connection between Rock Point Bridge and Valley of the Rogue State Park.  Two grants, with matching funds raised with our cycling events and a lot of brainstorming and man hours, now has this project on schedule for completion in 2019.
The first of these grants was a $403,000 grant from ODOT which was only enough to do preliminary engineering and permitting.  Through your efforts and help, we were able to provide Jackson County with the 10% ($47,000) "match" for this design grant and we were excited to get this phase of the project going.  However, this still left us needing over $2 million to actually BUILD the project. If we provided the same 10% matching funds to build the project, we would need a nest egg of over $200,000 to guarantee a construction grant.  Our supporters and cyclists are awesome, but this looked rather overwhelming.  This section does not include any bridges or difficult crossings but construction work is very costly.  Our Jackson County liaison investigated and found that we may be able to leverage the $450,000 design project ($403,000 grant and $47,000 Greenway Foundation funds) as match against other possible grants.  Several tries were made with this approach but each effort ended up with us not making the cut.  Meanwhile, we kept plugging away, improving our annual cycling event Ride the Rogue, saving money and considering other potential options.
Well, here is where it gets exciting!  John Vial, Jackson County Roads and Parks, spotted an opportunity where our project could qualify for a federal grant and we could match it with the design grant and he took the plunge on our behalf.  Under a month later, we got it!   Jackson County was awarded just under $2,000,000 to build the section of trail from Rock Point Bridge to Valley of the Rogue State Park.  The first grant is still secure and is matching the second grant which has been awarded.  When complete, we will have a 10-mile trail all the way from the Depot Street Bridge to the sports park along the Rogue River in Gold Hill.
So the design work of engineering, right of way negotiations, permitting and more is currently underway by Jackson County.  The new trail will predominantly be within the existing Jackson County roadway right of way, but it will be a separate bikeway – not just a bike lane.  Construction of the project is scheduled to go out for bid spring of 2019 and should be completed within that year!
For those interested, our meetings are generally the 3rd Monday of each month, 6:00 PM at the Rogue River Fire Hall.  You can also visit our webpages www.roguerivergreenway.org and www.ridetherogue.org, plus our Facebook pages https://www.facebook.com/Ride-the-Rogue-397566917467 and https://www.facebook.com/Rogue-River-Greenway-344985076273/ .  Our 10th Ride the Rogue event will be September 22nd, 2018, with many special anniversary additions.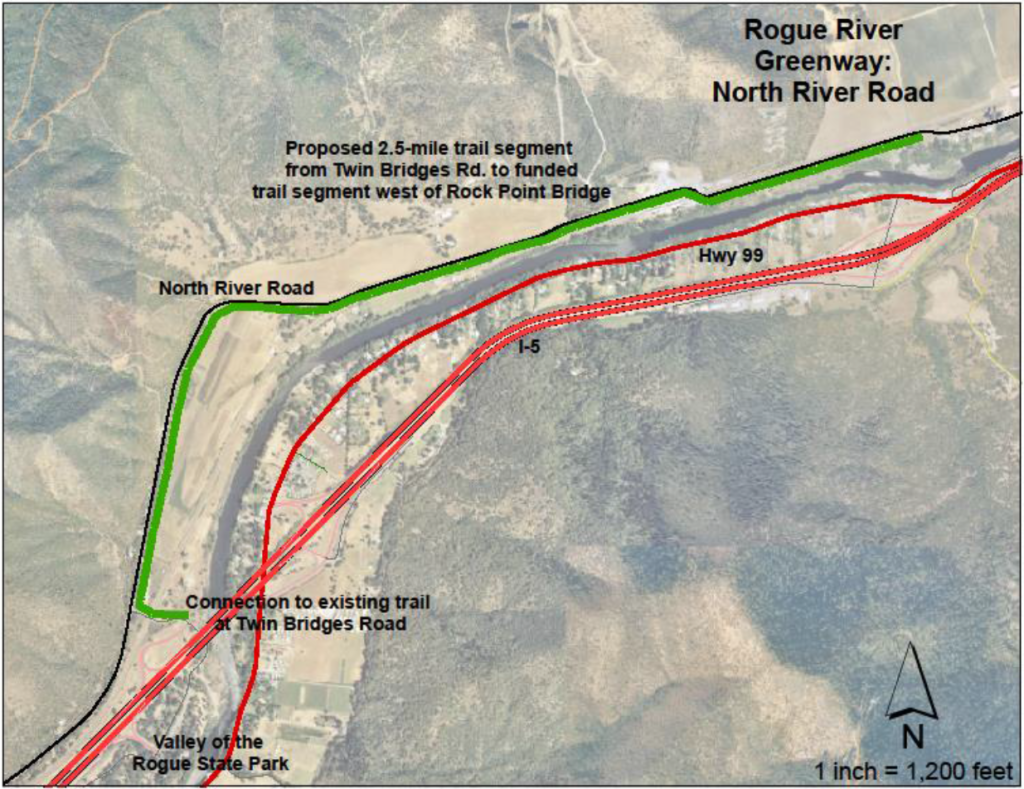 State grants fund local construction projects – 09-14-09
$2.3 million will go toward improvements across the county
Pedestrians will stroll on sidewalks to take in Britt Festivals performances in Jacksonville, and Rogue River Greenway users will find a trail from Gold Hill to Rock Point Bridge — thanks to $2.3 million from a state fund.
---
Rogue River Greenway team seeks practical solutions – 04-19-2009
The recent article by Damian Mann on the Rogue River Greenway planning effort for the proposed Gold Ray Road portion was, unfortunately, misleading. Instead of correctly portraying the Gold Ray Road Solutions Team, convened several months ago by RVCOG, Oregon State Parks and Recreation Dept., the…
---
Greenway could run under Highway 140 – 08-27-2008
A critical link in the Rogue River Greenway got a boost last week when the Oregon Transportation Commission approved $1 million to build a crossing for the 30-mile pedestrian pathway under a new section of Highway 140 north of Central Point. The project, funded through a grant from the Oregon…
---
New Greenway path sought – 01-13-2008

Anyone who has walked or cycled the Bear Creek Greenway knows the trail stops in Central Point. In seven years, that could change under a far-reaching effort that will ultimately link Ashland to Grants Pass for cyclists and pedestrians. Path 20 percent complete The Rogue River Greenway will…
---
Inspiring the Greenway – 09-02-2007
In case you missed it, Tuesday heralded the grand opening of the first trailhead for the Rogue River Greenway. A huge ribbon was cut with an equally huge pair of scissors, thus officially marking the debut of the trail, which curves under the new Depot Street Bridge and heads off along the Rogue…